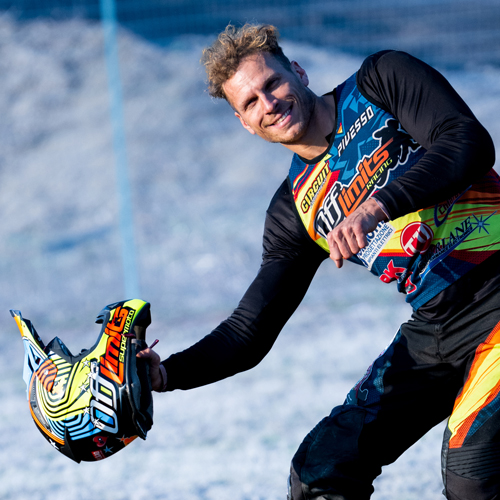 I'm Gianni Borgiotti
I'm a professional Precision Stunt Rider, Riding Instructor, Tester of bike/products, World championship Racer and Videomaker.
My company is called Offlimits Supermoto, a well known brand that provides riding courses and technical products and services. I'm able to ride with great skills and style all kind of bikes, especially big size bikes for tarmac and offroad and racing Dirt Bikes. Thanks to my talent and to the experience gathered in years of high level competitions, I can provide incredible shots with great safety.
Follow me
14-11-1980 date of birth
I have born and grow up at Milano city. Studied and graduated as electrical project manager. Since a kid i always had the passion of motorbikes. One day i was looking a magazine and saw a test of a Husqvarna 610 sms i saw wheelings slides jumps i immediatly know that it must have been my sport.

First racing day
That's the begin of my history with first earned money i bought a Husqvarna 570R the dream has just began and it will never die.

First Supermoto race
On my first racing year i have attended social and regional races obtaining first podiums.

Offlimits Supermoto foundation
I decided to follow my passion and fully live my life. I dropped my job and decided to begin entrepreneur. Offlimits Supermoto has been created and offered as first service Supermoto bike rental.

Riding courses service
I discovered a new talent offering to my client riding courses. The service quickly began Offlimits Supermoto core business.

Offlimits Shop
A new awesome headquarter has been bought at Bareggio and i also created Offlimits Shop.

FlatTrack
I felt in love of Flat Track and immediatly started high level competitions.

First Flat Track Victory.
Won my first Race at Misano Adriatico beating the world and the italian champion.

First World championship Race.
Attended my first world championship race in Czech Repubblic at Marianke Lazne closing it in 5th position.

2022
Until 2022 I have attended many national and international races achieving many podiums and some wins as well.